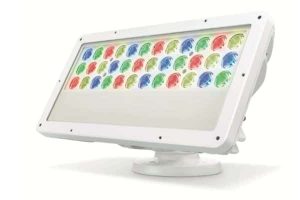 Rent high-performance and professional Color Kinetics LED lighting from Extreme Lighting & Grip in Las Vegas, NV. How are these lights different from all of the other LED light rentals out there, and how can they help you get the theater, video, tv, or photography look you're going for? Let us show you.
The Color Kinetics Lineup
First off, Color Kinetics gives you options. The team behind this brand understands that lighting rental isn't a one-size-fits-all situation. The lighting director looking for stage lighting rentals, movie lighting, event lights, or even high-fashion photoshoot lights, usually has a specific look in mind. Color Kinetics makes sure you have the tools to make your dream scenes or sets a reality.
Types of LED lights available from Color Kinetics:
Interior Lights

Exterior Lights

Wall Washes

Spotlights

Floodlights
Specific lighting solution lines:
ColorBlast Luminaires

ColorBurst Spotlights

ColorReach Floodlights

ReachElite Floodlights

iW Reach Floodlights
Exceptional Lighting
Color Kinetics brand production equipment rentals provide you with so many advantages. Best of all, when you rent from Extreme Lighting & Grip, these benefits are within reach no matter your budget. You don't have to invest in high equipment purchase and upkeep costs or worry about today's technologies becoming defunct and passé as new advances come to market.
High Performance

High-Quality Lighting

Proprietary Technologies

Uniform Coverage

Advanced Color Consistency
Access To Today's Proprietary Advancements
Color Kinetics stays ahead of the game in lighting efficiency, accuracy, and reliability by developing their own advanced technologies. Throughout the Vegas Valley, Extreme Lighting & Grip then places these advancements in LED light capabilities at your fingertips through customizable lighting rental packages from 
Optibin

 – A proprietary binning optimization process that ensures a uniform, consistent hue, and color temperature.

IntelliHue

 – Ensures unrivaled color accuracy from high-quality white light to subtle pastels to fully saturated colors.

Chromasync

 – Controls and boosts light output while still ensuring color consistency without manual adjustments.

Powercore

 – A patented power output technology that is simple to install while still being faster, more efficient, and more accurate.

OptiField

 – A proprietary optical technology that delivers even, beautiful light without hot spots or banding.
Ready To Rent Color Kinetics In Las Vegas?
Contact us at Extreme Lighting & Grip to rent Color Kinetics lighting and accessories in Las Vegas, NV. Ask about our convenient, ready-to-use truck packages or reservations for specific lights, grip supplies, and even expendables. We look forward to helping you get the best results possible on your next gig.