Extreme Lighting & Grip is your reliable source for expendables equipment in Las Vegas. As your go-to production supply rental company, we have just what you need to get your photo shoot, film set, or theater production up and running. Don't run all over town to find a little of this and a little of that or spend hours on the phone trying to hunt everything down. Count on us to minimize your efforts and maximize your results.
We Have What You Need
Whether you're on location or on stage, the little things can make a big difference; Especially when these little things are your expendables equipment. Missing, malfunctioning, or low-quality tools can set back lighting teams and grip crews, which ends up costing you time and money. Don't be caught shorthanded. We can help you with the following production supplies and more:
Tapes And Adhesives
Diffusion, Color Correct, And Gel Rolls
Rope, Cord, And Chain
Grip Hardware
Paints And Sprays
Blankets, Fabrics, And Plastics
Cords And Cables
Batteries
Heaters And Fans
Wire, Ties, And Pins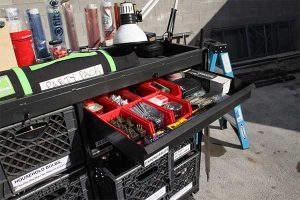 From Tape To Trucks
We not only have a wide selection of just about everything you need, we also have it in the quantities you need. From a few rolls of your favorite kind of gaffers tape to a truckload of everything you need on set, we have you covered. We even offer production supply rental trucks. These truck packages come preloaded with lighting, grip, and expendables equipment in 1-ton, 3-ton, 5-ton, and 10-ton sizes.
Our Service, Your Set
Throughout the Vegas Valley, your Extreme Lighting & Grip team has a reputation of quickly getting you tools, supplies, and even crews. Your event, convention, play, or music video is never too large or too small for the very best in customer service. We take care of you, now. Can't find what you're looking for anywhere else? Give us a call.
Get Expendables Equipment In Las Vegas
At Extreme Lighting & Grip, you know you can count on us for lighting and grip supplies. We're also your number one Las Vegas source for the little essentials on set, your expendables equipment. Don't be caught off guard or mid shoot. Contact us today to order what you need or place a production supply truck rental reservation.