For your next event or production, trust Extreme Lighting & Grip of Las Vegas for lighting truss rental. Put light exactly where you want it by choosing from the wide selection of stage lighting trusses and accessories we have available. When designing your film, stage or event lighting setup and deciding where the source of your light should come from, having the right trusses as part of your rigging package can greatly expand the possibilities.
Lighting Truss System Benefits
A lighting truss system is the backbone of theatrical lighting, allowing you to position and support your lighting equipment overhead. Trusses can span great lengths and bear a significant amount of weight safely. Just some of our lighting truss equipment rentals include:
Pipe
Speedrail
Pipe Organ, Assorted Pipe
Speed Clips
Pipe Spreaders
Corner Blocks
Corner T
Truss Base
Bracket Ears
Triangle Brackets
Grapple Bars
Truss Socks
And much more!
Truss come in many sizes and shapes, including box, club, triangle, ladder and curved trusses, and are easy to bolt together. Whatever truss type is your preference, we have you covered.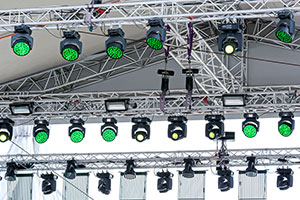 Truss, Rent Vs Buy
The cost of buying aluminum trusses can be very high, due to the alloys and complex manufacturing process used to make them. If improperly stored and handled, they can present a danger to cast, crew and audiences. When you rent stage rigging trusses from Extreme Lighting & Grip, you can choose well-maintained equipment in the exact size and type needed for your current project at a reasonable price. We get you the truss equipment you need quickly. Our years of production lighting experience can also assist you in designing the safest and most reliable truss system for your set.
Rent Lighting Truss In Las Vegas
Contact Extreme Lighting & Grip today for all your lighting truss equipment rental needs. Let us show you why we are the best production rental house in Vegas.