For your next gig, make sure you have everything you need with photoshoot lighting rental from Extreme Lighting & Grip located in Las Vegas, Nevada. We carry all of the necessary lighting gear and equipment that you as a busy photographer needs on set or in the studio. Don't waste time calling and driving all around town last minute. You need it? We've got it or we can get it.
Lighting Your Setup
Lighting for photography is a science in itself, but there are some basics that make the process easy. As time goes on you get to know the lights and positions that get you the shots you love. We can get you the lights you need. Some of the most common types of lighting setups photographers use during photo shoots include: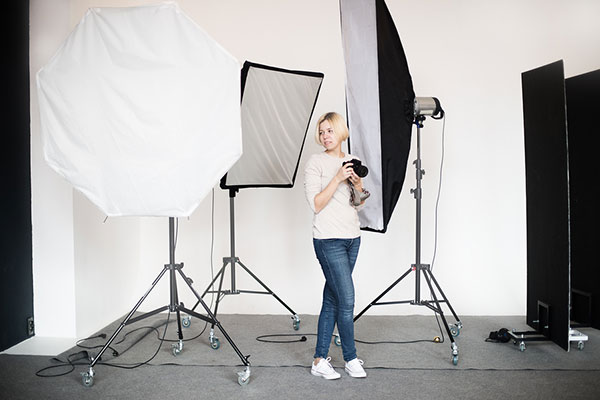 Split Lighting
Loop Lighting
Rembrandt Lighting
Butterfly Lighting
Broad Lighting
Short Lighting
From Freelance To Fashion Shows
We offer photoshoot lighting equipment rental that will satisfy your needs no matter the size of your project. We can supply you with everything from light stands and reflectors to any type of grip supplies you can imagine.
Not only do we offer individual photography shoot lights and supplies, we also offer rental of 1-ton, 3-ton, 5-ton, and 10-ton trucks fully packed with anything you'll need to professionally light your photoshoot.
We're Good At Helping You Get That Shot
At Extreme Lighting & Grip, we have 60 years of experience helping people get their perfect shot. We're professionals who can assist you with all facets of your photography lighting needs. Whether its light stands, scrims, LED panels or a couple of hundred rolls of gaffer's tape, our experienced team can set you up with exactly what you need.
Making Lights The Least Of Your Worries
At Extreme Lighting & Grip, we understand that you're busy and that time is money. Photography lighting rental should be quick, easy, and precise. Whether you need just a few items for your photo shoot light rental or everything under the sun, we can get it for you fast and at a good price.
Rent Photoshoot Lights In Vegas
We can help you get squared away with your portrait lighting, backdrop rental, party photo shoot lighting gear, and anything you may need for event photo shoot lighting. When it comes to photo shoot lighting rentals in Las Vegas there is no one bigger or better than Extreme Lighting & Grip. Contact us to reserve your equipment today.