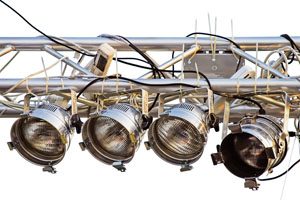 If you're looking for Mole Richardson light rental for your next Las Vegas film, broadcast, or stage production, look no further than Extreme Lighting & Grip. You depend on the Mole Richardson for their history, quality, and reproducible results time and time again. We invite you to depend on us for the same reasons. With over six decades of on-set experience and a reputation for getting you the film tools you need when you need them, we look forward to serving you.
Why It Has To Be Mole Richardson
Since its beginning as the brainchild of Peter Mole, Elmer C. Richardson, and Fielding C. Coates in the 1920's, the Mole Richardson company has been known for exceptional lighting equipment. These award winning lights were produced to fill a need not being met by the film industry at that time. Fortunately, with a commitment to marry the best in handcraftsmanship to the latest in modern technology, Mole Richardson lights continue to be designed, engineered and built in the USA to meet the needs of today's gaffers.
LED Fresnels & So Much More
Whether you are looking for the perfect lighting for a Las Vegas stage production, reliable convention lighting, or lights that work for both film and tv broadcasts, Mole Richardson makes a light for you. At Extreme Lighting & Grip, we know that the more time you have lighting up a variety of sets, the more you begin to rely on a specific brand, series, type, or size of light for that type of set. Some of the more popular Mole Richardson lighting rentals you might be looking for include the following:
Mole Richardson Fresnel Soft Lights
Mole Richardson Incandescent Fresnels
Mole Richardson LED Fresnels
Tweenie, Baby, Junior, Tener And Senior LED's
Local And DMX Dimmable Lights
Varicolor Lighting Rentals
Big Mo, Mighty Mole, And Mickey Moles
Baby Teners, Baby Seniors, And Mini Lights
Mole Betweenie And Inbetweenies
Molelipso Spot Light Rentals
Zip Soft Lights For Rent
1K, 2K And 4K Soft Lights
Mole Pro Fresnel And Panel Lights
Tungsten And Daylite Softlite LEDs
PAR Lights By Mole Richardson
The Lights That Just Work
Maybe you're looking for variable color LED's that work in both motion picture lighting and commercial lighting settings. Well, Mole makes a Vari series that includes Panel, Vari Mole, Studio, Soft, Space, and Skypan options. Or maybe you're ready to upgrade everybody's favorite fresnel to Mole Richardson LED Fresnels and take advantage of energy savings paired with a reliable, flicker and heat free light. Whatever your need, Mole makes a light and we can get it for you.
Rent Mole Richardson Lights In Las Vegas
Go with the guys who know lights. At Extreme Lighting & Grip, we either have the Mole Richardson light rental you need on hand or can get it for you quickly and dependably this time and every time. Need light stands, gels, power generators or film carts? We have you covered with lighting and grip trucks already outfitted, organized and ready to make your life easier. Call us today to reserve your lighting and grip equipment.