Extreme Lighting & Grip, your Las Vegas lighting rental experts, proudly offers Lowell brand LED lights for our clients. We provide local and on-location professionals with film, photography, and event tools. Don't waste valuable set time, or experience delays, due to low-quality production rentals or online deliveries. Find out why Lowell is the reliable option for so many industry buffs.
The Lowell Brand
The Lowell Brand is known as the world leader in location lighting systems. They belong to the Tiffen company, which has been catering to the needs of the imaging, motion picture, television, and broadcast industries for 80 years. Eight decades of experience has helped this brand perfect their gear for convenience, efficiency, and reliability.
All The Benefits – Available For Rent
Renting your production equipment means you can always have access to the latest and greatest products without all the upkeep and minimal investment. We offer our rentals in convenient, ready-to-use kits ranging from custom sizes to 1, 3, 5, and 10-ton lighting, grip, and electric packages.
So, why should you choose Lowell lights for your next photography or videography project?
LED, Tungsten & Fluorescent Options
Compact Color Mixing
Powerful Fresnel Focusing
Rugged, All-Weather Panel Systems
Lightweight
Portable
Versatile
TotaLED Floodlights
The Lowell TotaLED is a popular portable floodlight. The reason this LED lighting rental is chosen time and again is for its combination of brightness, compact design, and power-packed daylight quality. A sturdy, metal chassis and silent, fanless cooling system, make this a coveted "take anywhere" option for filmmakers of all levels, and sets of all sizes.
160 LEDs
Flicker-Free, Continuous Light
Convenient AC Or Battery Powered Operation
Efficient, 70 W Power Draw
750 W Tungsten Equivalent Brightness
Daylight Balanced (5600 K)
CRI Of 96.3 – Excellent Color Accuracy
Rifa-Lite Softbox Lights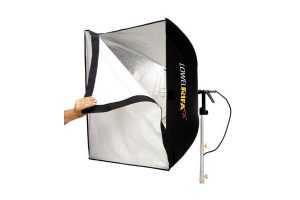 Another popular lighting rental from the Lowell brand is the Rifa-Lite Softbox. The Rifa-Lite is available with tungsten or fluorescent lamps to meet your preferences and skill level. An umbrella-like open and close mechanism makes these lights easy to stow. The front diffusion portion is also removable, making it easy to switch up your lighting effects in an instant.
Heat-Resistant, Woven Glass Fabric Front Diffuser
Accepts Different Wattage & Voltage Bulb, With AdapterCompact, 17″ Folded
Easy Open & Close
Lightweight
Self-Contained
Rent Lowell Brand Lights In Las Vegas
Make sure you have everything you need for your production equipment rentals, including movie lighting, TV lighting, theater, video, and photography projects in Las Vegas with Extreme Lighting & Grip. We are your local, southern Nevada source for Lowel lights like Tota LED light rentals and Rifa softboxes. Contact us today to reserve your package.