At Extreme Lighting & Grip of Las Vegas, we are your number one source for HMI lighting rental. As production lighting professionals, we know that a variety of lighting options are needed to get that perfect shot for your unique location and project.
High-quality HMI lights from brands like Arri and K5600 may be just what your movie, event, or photography set is missing. Contact us for production lighting rental today.
Benefits Of HMI Lights
Hydrargyrum medium-arc iodide, or HMI, is a popular lighting option for film and photography sets. These lights are known for very high output while remaining more efficient than a typical incandescent light bulb. In fact, HMI lights can be as much as four times more efficient than an incandescent bulb.
The color temperature of HMI closely resembles that of sunlight making daylight shooting easier. This is one of the many selling points for the professionals that choose them for movies, commercials, television studio broadcasts, and more. When paired with electrical ballasts, HMI also produces flicker-free light. Choose HMI lights for a cooler running, power saving, option.
High-Quality HMI Lights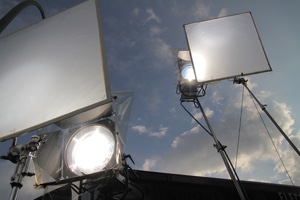 HMI lights are crafted by many different high-quality brands. Different lights may be favored over others depending on your lighting needs, experience, and circumstances. Let us help you choose among the following popular HMI light brands:
Arri HMI Lights
Dedolight
K 5600
Cinemills
Mole Richardson
Each of these brands is well-known for quality and functionality. Maybe you prefer one brand over another and are unable to find your preference locally in Las Vegas. Maybe your HMI lights are ready to be replaced for maximum efficiency. Maybe you would like to experience this option for the first time or find out if they would even work on your set. Whatever your needs, we can help you.
Rent HMI Lights In Las Vegas
Our lighting, grip, and production equipment rentals are available individually or by trucks ready to meet the lighting needs of your entire production. Contact Extreme Lighting & Grip of Las Vegas for HMI lighting rental today.