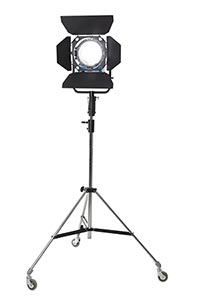 For the most comprehensive selection of grip stand rentals in Las Vegas, Nevada, look no further than Extreme Lighting & Grip. Because we understand that different production environments have different grip equipment requirements, we carry all types of grip stands and grip stand accessories for rent. Whether you're looking for stands for your reflectors, flags, nets, silks, or even smaller kino lights, we have what you need when you need it.
The Perfect Stand For Your Production
Whether you need one grip stand or a full production environment, at Extreme Lighting & Grip we are ready with quality grip equipment at competitive prices. Some of our most popular grip stand rentals include the following:
C-Stands / Century Stands
Combo Stands
Windup / Crank Stands
Rolling Stands
Baby Stands
Junior Stands
Double & Triple Riser Stands
Kit Stands
Folding Stands
Floor Stands
Not sure what stand would suit your movie, music video, theater production, convention, sporting event or any other venue? We have decades of experience in this business and are more than happy to advise you on the perfect setup for your unique situation.
Baby Stand Rental
Characterized by a baby pin or baby pop-up pin on top, these stands are designed to hold smaller lights of 2000 watts or less. With a tripod base and availability with or without wheels, these stands come in many varieties including these to name a few:
Baby Blade Low Stands
Baby Lite Weight Stands
Beefy Baby Preemie Stands
Modern Beefy Baby Stands
Rolling Baby Stands
There's no need to spend hours online comparing production rental houses or trying to find and round up the number of baby stands you need. Despite all the different names and options, whatever you're looking for, we have it, or we can get it quicker than anywhere else.
Combo & Other Stands
Maybe you need more than just a grip stand for lights. Our combo or combination stands can hold both your reflectors and lighting equipment. Rolling stands make portability a breeze. Crank stands take your production equipment to new heights safely and securely. Some of the customer-preferred combo, rolling, and crank stands we carry include the following:
Mole Rolling Stands
Combo Combo Stands
Roadrunner Crank Stands
Rolling Baby Stands
Rolling Turtle Stands
Sidewinder Crank Stands
Your Las Vegas Grip Stand Rental Authority
Don't leave your grip stand rental in inexperienced hands. We are here to make sure you are taken care of 24 hours a day, seven days a week. From Matthews to Mole Richardson, we have the names you trust. Whether you're planning ahead or need emergency grip, stand rental contact Extreme Lighting & Grip of Las Vegas today.