As experienced grip professionals, at Extreme Lighting & Grip we offer only the highest quality grip cart rentals to our Las Vegas customers. We know what makes a good studio or stage cart for your ultimate success and we work hard to provide a portable backstage solution that includes all of the gear necessary to put together your sets. Our grip trucks are always stocked with getting the tools you need, right where you need them.
Grip Cart Rental Options
When it comes to grip, lighting, or electrical carts, one size does not fit all. Gaffers have their preferences and for good reason. You know what works best for you. Our job is to make sure we have those top quality, convenient dollies, trucks, and carts — and the supplies to outfit them just the way you want. In short, our job is to make your job easier. Just some of the grip set cart rentals we offer include:
Camera Carts
Film Carts
C-Stand Carts
Magliners
Taco Carts
Electric Carts
Dolly's
Hand Carts
Push Carts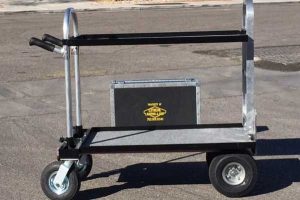 The Convenience Of Film Carts On Set
You've got the crew, the cameras, and the location, now what about the gear? Our grip trucks can help you out there with clamps, clips, lights, cables, gaffers tape, gels, rigging equipment, tools, apple boxes, light stands, and expendables just for starters. Our grip carts make sure you have that equipment on hand right where you need it. Everything is organized for quick access and easy portability.
Rent Grip Carts For Your Vegas Production
For grip cart rentals in Las Vegas, get quality equipment from the professional grip guys at Extreme Lighting & Grip. Have a favorite brand of cart? Need a specific layout, or a specific number of carts? If we don't have it, we can get it for you. Put over six decades of experience to work for you. Contact us today to reserve carts, lighting, and grip equipment. We have options to meet the needs of your unique production.