For a highly versatile selection of grip rags and flags, Extreme Lighting & Grip is your best rental source in Las Vegas. We carry the fabrics and frames you need to get the shots you want time and time again. Our staff has decades of experience in film production on and off the strip. Put our knowledge and resources to work for you.
Our Selection Of Flag & Rag Rentals
With film experience comes a preference for your favorite grip tools. You never want to be without those standbys you can use in all kinds of different ways and even in a pinch to create the effects needed on set. Well, make sure your grip kit is complete with the following available rag and flag rentals, from Extreme Lighting & Grip, so your team never misses an opportunity for the perfect shot:
Overheads
Reflectors
Nettings
Scrims
Solids
Silks
Duplicate Studio Lights On The Go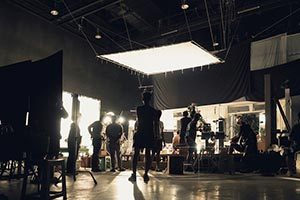 Not every production is a simple matter of carefully controlled light settings in a studio. Grip rags make getting the lighting effects you need much easier on the go. Manipulate portable lighting with light eliminating solids, light reducing scrims, and light diffusing silks from our rental selection. From on stage to on location, these handy, easy to carry gotos make a big difference.
Scrims, Silk & Solids Of All Sizes
We offer grip fabrics in many weights and sizes to meet your needs. For windy days you might need a heavier material to keep those flapping noises off-screen. Maybe you're short a few reflectors. We have what you're looking for. Need a specific rag brand or convenient set of flags? If we don't have it, we can get what you need in no time.
Rent Film Grip Rags In Vegas
Creating different light ratios with grip rag and flag rentals is easy in Las Vegas. Call us at Extreme Lighting & Grip today to reserve just what you need for your film production. If you're looking for lighting and grip rental packages, trucks, or even an experienced crew member, we can help you there too. We look forward to showing you all the ways we can help.