Create smooth effects for your films and television productions with state-of-the-art camera dolly rentals from Extreme Lighting & Grip in Las Vegas, Nevada. Whether you are new to filmmaking, an independent filmmaker, or are a dolly grip for a film or television studio, our camera dollies can help you expand your cinematic techniques by creating a shooting platform to produce smooth and steady camera movements.
Film Production Dolly & Track Rental
Whatever your camera support equipment needs, we have the inventory and experience to make it happen. Some of our most popular camera dolly rentals include:
Dana Dolly
JanJib – Jib Arm
Fisher Dolly
Magliner Junior Cart
Dolly Tracks – of both heavy and lightweight materials.
Round-d-Round Dolly – includes all accessories, bazooka, dolly track, track and camera cribbing / wedges.
You may prefer a specific brand of dolly or unique track and dolly setup for your production. If you need it, we can get it for you.
Professional Camera Dollies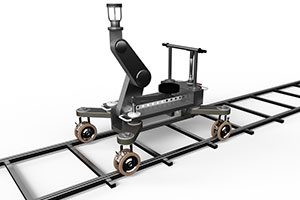 Filming either in the studio or on location can require heavier more stable dollies to carry the professional camera equipment, the dolly grip and even your camera operator. These are most often raised onto steel or aluminum dolly tracks for horizontal movement and may also employ a hydraulic jib arm or crane that raises or lowers the camera vertically, often simultaneously. Since the ability to edit is often critical for a film or television studio, the use of a dolly track system allows for many takes using the same camera movement.
Lightweight Camera Dollies For Film
Lightweight Dollies used by independent filmmakers and film students are easy to transport since they carry only lighter weight camera equipment, allowing the operator to walk alongside. While more complicated, they can be used without the track to give the operator more freedom, but must have a smooth floor surface or overlay. They can also be used with plastic or flexible dolly tracks which are easy to carry and place.
Camera Dolly Rental In Las Vegas
At Extreme Lighting & Grip in Las Vegas, we have the expertise and experience to provide you with the perfect dolly system rental to meet your specific production needs, whether large or small. Contact us today to see our wide selection of rental camera dollies and equipment.