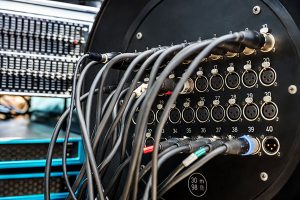 Get your lighting cable rentals from the Las Vegas stage lighting professionals, Extreme Lighting & Grip. You know us for our great selection of lights for tv, theater, motion picture production, convention events, and award shows. Keeping the lights on at these venues means keeping the power flowing. We keep everything reliably lit with quality lighting accessories like cables with the proper connectors.
Cables To Power Your Vision
We offer a wide variety of electrical cabling for professional stage lighting. With years of on-set experience under our belts, we know that power cables and connectors are not a one size fits all matter. Mix up those 120v and 208v connections and you'll be in for a shocking surprise. Getting the right gear protects your equipment and your electricians. Some popular stage light cabling options we offer include:
Stage Pin Cable Rentals
Cables For Moving Lights
PowerCon Cable Rentals
Rental AC Power Cables For Lights
Socapex/Soco Cable Rental
Feeder Cables For Rent
Rental DMX And XLR Data Cables
Lighting Cables That Don't Quit
When you're dealing with production lighting of any kind, from concerts to theater performances, you're juggling, multiple voltages and dimmable vs. non-dimmables. You want your lighting rigs to have the right plugs and voltage capacities for each fixture to ensure constant, reliable power. We offer more than just cables and lighting packages. We can help you make sure you've got enough Stage Pins and Socos for your specific event and all the feeder cabling you need to bring in the power.
Lighting Cables In Las Vegas
Get the advice and lighting cable rental you need to ensure a great Las Vegas production at Extreme Lighting & Grip. Need more than cabling? We have lighting and grip packages to meet the demands of even the largest sets and venues. Count on us for all of your favorite and hard-to-find brands. Call now to reserve your equipment.