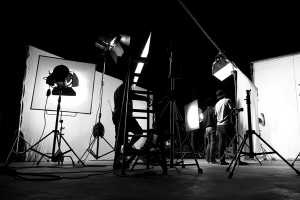 Butterfly and overhead frames rental is easy when you choose Extreme Lighting & Grip of Las Vegas, NV. We have everything you need to manipulate the lighting on your film set or photoshoot. Whether you're looking to hang a green screen or a series of light-diffusing fabrics, your quality butterfly overhead frame rental is just a click or a phone call away.
Overhead Frame Rental Options
Butterfly overhead frames are easy to set up and break down or fold away. They consist of either squared corner or heavy-duty rounded metal tubing (like Speedrail), and some are modular in design. Common sizes for overhead frames include 12'x12', 8'x8', 6'x6', 4'x6', and 20'x20'. So, they can easily suit your needs for any of the following applications:
Green Screens And Blue Screens
White Or Silver Screens
Light Diffusing Fabrics
Reflectors Like Gold Lame
Grid Cloth And Muslin
Solids Like Black Cloth
Silks And Scrims
Photo Backgrounds
Grifflon, Ultrabounce, And More!
Make It A Packaged Deal
If you need both rags and frames, why not make it a packaged deal. In addition to butterfly frames, we also rent all the fabrics you need to get that perfect shot. Whether you're trying to cut the light, improve it, or transport your stars to another place with green screen technology, we have you covered.
All The Grip Equipment You Need
While you're shopping for overhead frames, is there anything else you need for your next film, photo, or theater project? Our lighting and grip packages range from just what you need to 10-ton semi truckloads packed and ready to make your next production a success. There's no need to rely on questionable shipping dates or to run around town getting everything together. We're you're one stop shop for both lighting and grip supplies in Las Vegas.
Rent Butterfly & Overhead Frames In Vegas
For quality butterfly and overhead frame rental in Las Vegas, and customer service you can count on, rely on Extreme Lighting & Grip. With over six decades of experience, we know the ins and outs of the film industry. So, you're getting equipment backed by real life, on set professionals. Contact us today to reserve your grip rental equipment. We look forward to helping you.