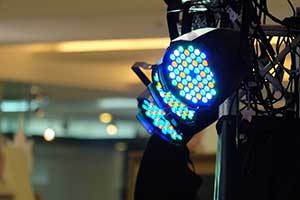 Extreme Lighting & Grip is your best source for professional LED light rental in Las Vegas. We know you want great shots at the right price, so we stock the highest quality LED lights for film production and photography in the Vegas Valley.
LED VS Tungsten Lights
As film producers from indie to epic have come to see, LED lights are the new darlings on set. You want quality, reliable lighting that's easy to work with and light on the budget. Not only are these lights convenient, portable, lightweight, and simple to set up, they excel in both efficiency, lifespan, and temperature benefits over tungsten lighting.
LED lighting uses less energy and converts 80% of that energy to light as opposed to Tungsten's 20% conversion. Many units can be operated off of one power strip or small portable battery which eliminates the need for noisy, expensive generator rentals. They also last 50 plus times as long as traditional lighting and stay cool for safe handling and quick tear downs.
The Brands You Trust, The Options You Want
At Extreme Lighting & Grip, we have LED lights for rent in a wide range of brands and formats. We carry Phillips Colorblaze, ParLite, Litepanels and much more. Some of our most popular LED rentals for film production include these products:
Wash Lights
Bi-Color LED Lights
Tri-Color LED's
Multi-Color LED's
LED Flood Lights
LED Panels
LED Accessories
We also carry gels, softboxes, power sources, DMX dimmers, and anything else you need to complete your LED lighting kit. Rent individual lights or trucks preloaded with all the gear you need to compliment your production. We have what you need when you need it.
Rent LED Lights In Vegas
Looking for a particular brand or product? At Extreme Lighting & Grip in Las Vegas, we can get it for you fast. Don't waste time shopping for a piece here and a piece there when you can get the perfect LED light rental from us when you need it. Call us today to reserve your lights. We look forward to answering any questions you may have.