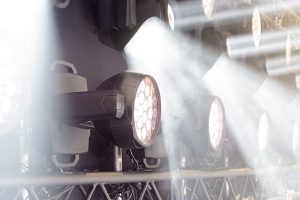 For your next Las Vegas baby light rental, count on Extreme Lighting & Grip, the film lighting professionals. We have your tv commercial, stage, movie production, or professional photography studio covered with the best selection and customer service. We have the brands you rely on and the experienced staff you can trust time and time again.
Your Favorite Baby Lights
We know that Mole Richardson isn't just the industry standard, it's your standard. Just like us, the Mole Richardson company has relied on decades of onset experience to offer you the best tools of the trade. Mole baby spotlights are easy to place right where you need them. Some of your favorite sizes and models in these low-intensity spotlights include:
1K Baby Baby Fresnel
1K Baby "407" Fresnel
2K Baby Junior Fresnel
5K Baby Senior Fresnel
10K Baby Tener Fresnel
12K Baby Twelver Fresnel
Mole BabyLED 3200 Fresnel
Mole BabyLED 5500 Fresnel
Mole DMX Baby LED 3200 Fresnel
Mole DMX Baby LED 5500 Fresnel
On Set, Or On The Road
Mole baby lights are popular for all the right reasons. These tungsten fresnels are compact and lightweight without sacrificing high performance. You know these spotlights will work for smaller sets, interior shots, and on location. Their low maintenance and easily portable design means you have options when you need them. With baby LED rentals you can even take advantage of 80% less power consumption and onboard DMX dimming on some models.
Rent Mole Baby Lights In Vegas
Your Las Vegas production needs lights, and you need to know you're getting the best baby light rentals around. Contact Extreme Lighting & Grip today with the sizes and models you want or let us help you decide. We can light up your conventions, events, award shows, theatrical performances, and motion pictures of all sizes. We look forward to answering your questions and reserving your baby lights now.